Membership Benefits

JOIN AL!VE

Membership is open to any individual or group utilizing volunteers or interested in the field of volunteer engagement. Membership is renewed annually based on the date of enrollment.

Click here to join!


MEMBERSHIP DUES
Individual Membership Dues are $50 for a 12-month membership

Find out more about Local Associations of Volunteer Engagement Professionals Benefits

BENEFITS OF AL!VE MEMBERSHIP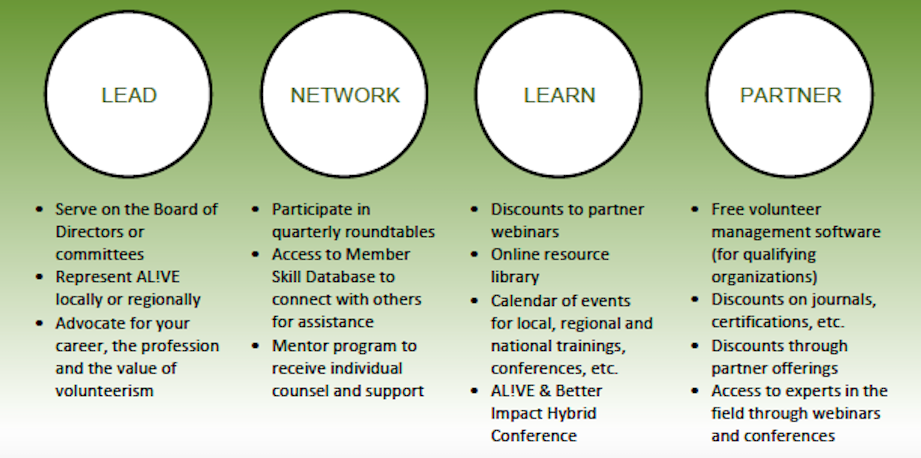 AL!VE is proud to partner with the following organizations:

Current Discounts:
CCVA - 10% discount on certification fees to earn your Certification on Volunteer Administration
IJOVA (International Journal on Volunteer Administration) current and past issues available for viewing and download from IJOVA, access from our home page.
Samaritan - free volunteer management software to those orgs who qualify. Learn more here.
Verified Volunteers - AL!VE participating members to receive special pricing based off VV partner volume pricing matrix.
Preferred pricing for search packages for employee screening (a la carte items excluded).
VolunteerMatch - 15% off a premium membership.
*New*! VolunteerPro: AL!VE Members receive a discount on a VolunteerPro membership!
Volunteer Insurance Services (VIS) check our file archives for information and checklists on risk management.
VSys One: 10% discount on the software license price (regular and renewal certification fees) for all AL!VE members.
Discount codes and contact information can be found on our 'Members Only' page.