Better Impact & AL!VE Hybrid Conference
Attend a one day mini-conference at your local AVA, DOVIA or Volunteer Center with four internationally recognized presenters !

Better Impact and AL!VE are teaming up to bring you a revolutionary approach to professional development – the hybrid conference!
June 23 (Pacific and Mountain time zones) OR June 25, 2015 (Central and Eastern time zones)
Shaping the Future of Your Organization
JUNE 23, for Pacific/Mountain
LIVE Location - Portland State University, Portland, OR (NOVAA)*
Register
Southwest Idaho Directors of Volunteer Service (SWIDOVS)*
Register
Nevada Volunteers – Reno, NV*
Register
Nevada Volunteers – Las Vegas, NV*
Register
Civic Service Institute, Northern AZ University, Flagstaff, AZ
Register
JUNE 25, for Central/Eastern time zones
LIVE Location - North Park University, Chicago, IL
Register
Tidewell Hospice – Sarasota, FL*
Register
North Carolina State University & NCAVA – Durham, North Carolina*
Register
North Carolina State University & NCAVA – Raleigh, North Carolina*
Register
Delaware Valley Association of Volunteer Administors (DVAVA) – Philadelphia. PA
Register
The Salvation Army - Peoria, Illinois
Register
United Way of Washtenaw County Volunteer Center - Ann Arbor, Michigan -
Register
New York, New York - NYAVA (Registration coming soon)
City of Plano - Plano, Texas (Registration coming soon)
Memphis, TN (Registration coming soon)
* - Denotes AL!VE members who received a discount on the conference fee
*Scroll down for FAQ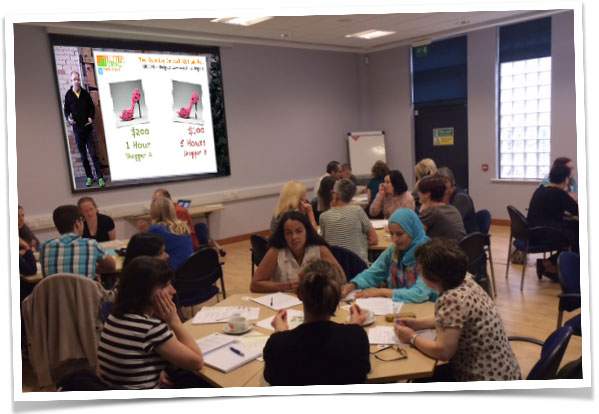 (Photoshop sample of what the hybrid conference could look like)
We all know it's a challenge to work funds into a budget for travel to conferences, yet we all know how valuable continuing professional development and networking can be.
The hybrid conference model delivers top notch speakers, running workshops from a central location and broadcast via the internet, to AVAs, DOVIAs and volunteer centers (or any room full of leaders of volunteers) who then host and facilitate a local version of the one-day conference. Participants in the local conference will have the opportunity for table discussions, feedback to the local and larger group, and of course, networking. Your attendees will be part of a national group of hundreds of leaders across the United States for live streaming presentations and local discussion!
The fee to local hosts is only $500! Only a limited number of remote locations can participate. Host organizations will be selected on a first come, first served basis, and subject to their ability to meet the technical requirements and local facilitation guidelines. AL!VE members hosting an event receive a $50 discount.
Don't miss out on this unique opportunity to bring Rick Lynch, Rob Jackon, Andy Fryar and Tony Goodrow into your community!

Shaping the Future of Your Organization

This conference is all about leadership; not just leadership of your volunteers, but also being a leader within your organization.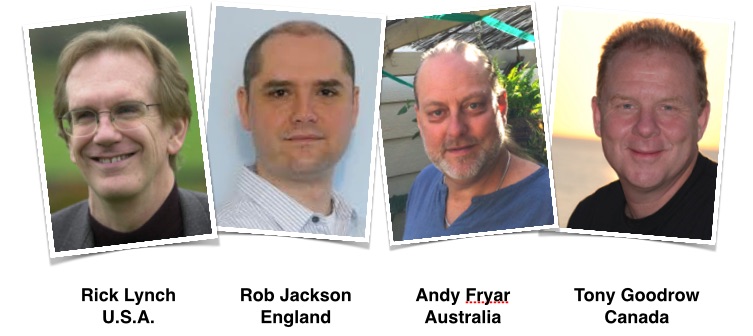 Rick Lynch – Creating a Strategic Vision for Volunteer Engagement

An effective volunteer program supports an organization's strategic plan. In this session, participants learn the five steps of the strategic planning process and how they can build a strategic volunteer program even when the organization doesn't have a strategic plan. Such a program enables an organization to engage volunteers in mission-critical activities that the organization cannot afford to pursue with paid staff alone. By adopting this strategic focus, organizations can escape their financial constraints and have a greater impact than ever before.

About Rick
Management Consultant who specializes in issues facing not-for-profit organizations.
As a trainer, author, and coach, he helps managers create productive workplaces for both paid and unpaid staff.
Speaker at approximately 100 workshops, conventions and conferences annually throughout the world
Author of a variety of books on leadership and volunteer management

Rob Jackson – Understanding and Engaging 21st Century Volunteers

Volunteering today is not the same as it was twenty years ago. This session will look at some of the key ways in which society is changing and how these changes affect volunteerism. However, just exploring these changes isn't enough. We will also discuss what leaders of volunteers can do to update their practices to accommodate these changes, further enhancing their engagement and retention of 21st century volunteers.

About Rob
Trainer and Consultant with Rob Jackson Consulting
UK Operations Manager for Better Impact
Former Director of Development and Innovation at Volunteering England
Management experience across organizations such as University of Surrey, Bardardo's Children's Charity and the Royal National Institute of the Blind,
Member of the editorial team for e-volunteerism

Andy Fryar – Positioning the Profession

The way that people volunteer continues to change – after all, so many different people are doing it in ways we could not have imagined just a few years ago! But what does this mean for the role of the Volunteer Program Manager, and for the profession of volunteer management more broadly? Join Andy in this interactive workshop as he explores where we have come from, where we are heading and most importantly, how you can start to think differently about the critical role that you play in your organization.

About Andy
Founder and Director of OzVPM (Australasian Volunteer Program Management)
Australian Operations Manager for Better Impact
Former President of Volunteering Australia
Co-author of Volunteer Program Management: An Essential Guide (3rd edition),
Founding member of the editorial team for e-volunteerism,
Chair of the Committee for International Volunteer Manager's Day

Tony Goodrow – What Can We Learn About (Volunteer) Leadership from Zappos!

Zappos has tens of thousands of people apply for hundreds of job opportunities. If this is your "problem" we'll look at to turn this problem into leading edge volunteer engagement. If you are struggling to find enough volunteers, this workshop will help you discover what you need to attract people like Zappos does. By the way, its obviously not with money as they only pay the average wage at entry level jobs and below industry average at higher level jobs.

About Tony
President of Better Impact Inc., creators of Volunteer Impact (volunteer management software)
Founder of the Better Impact Member Community, an educational forum for leaders of volunteers
Presented volunteer management workshops at conferences on five continents
Pioneered Relative Impact model of measuring volunteer ROI
Founding Chair (volunteer) of the Carpenter Hospice
Mark these dates…
June 1,2,3,4,5 – 1:00pm Eastern Time – Pre-event walk-through sessions (you'll just need attend 1)
June 23 – Conference for Pacific and Mountain time zones
June 25 – Conference for Central and Eastern time zones
Apply to host your own local event
Step 1
– Review
Remote_Host_Requirements_-_USA
to ensure your organization is a good fit to act as a local host
Step 2
– Fill in the
application form
on our site
Step 3
– Better Impact will contact you to review the application and answer any questions you have about the requirements to host
Step 4
– Better Impace will send you a contract and invoice for a deposit of $100. Your event will be considered confirmed once they receive both back. The balance won't be due until June 1, 2015.
Step 5
– In early June we will run a few brief, pre-event walk-through sessions just so you can see the way things will look before the main event. These will only be 10-15 minutes long and you will only need to participate in one. We will run a few of these as they need to be in the venue where the event will be held and we know some flexibility for that might be required.
FAQ's
What time should we have the conference?
Each day covers two time zones so the presenters will start at 8:30 in one time zone and 9:30 in another. You'll need to allow for attendees to arrive, local introductions, and any announcements. Our broadcast portion will be about six hours not including time for lunch.
How much should we charge?
That's up to your group. You will likely want to cover your costs for the host fee, location, and food. Depending on how many attendees you invite, anywhere from $50 to $100.
What is the limit to how many host sites can sign up?
20 for each conference day
Is the webinar for US participants or is there global participation?
Due to the challenges to meeting all time zones, only United States. A similar opportunity will be available during Canada's national conference run by VMPC and we are looking for a peak body in the UK and and AUstralia to run similar events their.
Is there a suggested number of attendees?
No, that is up to the space and capacity of your location.
When is payment due?
A deposit of $100 is due to reserve your participation and the balance is due June 1.
Will there be an on-site guide or training for facilitators?
Yes. Better Impact will be contacting each host site and arranging for training.
Will the AL!VE website list locations to help with outreach and marketing?
Yes. Watch this page for details and we will post on facebook and linked in.
Presented by: